Marshalltown High School


Class Of 1953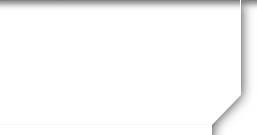 Not a member?
JOIN HERE
Find and click on your name.

WHO'S ONLINE NOW
No registered users are online right now.
WHERE ARE THEY NOW

WHERE WE LIVE
Who lives where - select from the dropdown to find out.


MISSING CLASSMATES
Know the email address of a missing Classmate? Click here to contact them!
JOINED CLASSMATES
Percentage of Joined Classmates: 52.0%


| | | |
| --- | --- | --- |
| A: | 51 | Joined |
| B: | 47 | Not Joined |
ANNOUNCEMENTS
From Paul: Here are some suggestions for donating funds to provide recovery for the tornado damages in Marshalltown.
1. Mid-Iowa Community Action (www.micaonline.org) , 1001 South 1st Street, Marshalltown, Iowa 50158: All funds received will be used to directly assist families in Marshalltown who have been affected for uninsured losses. This money will directly help those impacted the worst.
2. Marshalltown Area United Way. (www.unitedwaymarshalltown.org/contactus) 709 S. Center Street, Marshalltown, Iowa 50158: They claim all donated funds will go to families in Marshalltown. Just designate "tornado relief" on check.
3. Salvation Army, 232 N. 1st Street, Marshalltown, Iowa 50158. Designate tornado recovery fund on check.
4. Red Cross. Send donations to United Way requesting it to be given to local red cross.
5. Community Foundation of Marshall County. 11 N. First Avenue, Marshalltown, IA 50158: Gifts to the Rebuild Marshalltown Fund will be used for the significant rebuilding that lies ahead. This support will be invested where it is needed the most.
Dave
Our 65th Reunion of the Marshalltown High School Class of 1953 is set for

September 29, 2018

.
Greetings from Dave Stover, and speaking for Phil and Paul, you may have been wondering what's cooking with the Class of 53 MHS Reunion, so here's the latest.
We have only one event scheduled; our dinner together Sept 29th — dining from 5 to 9 PM at Calvin Rockett's combined restaurant (upper floor) and bar and grill (lower floor) at 2013 South Center Street. Their telephone number is 641-328-1033. We will plan on a cocktail hour until about 6:30, then begin dinner.
Phil has been talking to the new manager, Grant, of the Calvin Rockett organization and here are the selections for the evening.
Each person will have a choice of one of the 3 options as follows: a 10oz Rib Eye Steak @ $19, a Salmon filet @ $17, or a Chicken Parmesan Pasta @ $13.50. Each meal will include a side salad, and an ice cream dessert. We will have a special cake prepared by HY VEE with a special commemorative inscription in the school colors of red, white and blue. Rumor has it the icing is low fat, possibly not.
We hope to be seated six or eight to a table and each person or couple will pay separately.
We considered a program for the evening but decided that nothing formal was necessary nor expected. Probably passing the microphone around the tables and letting everyone contribute as the spirit moves them will encourage great conversation. Then, when the virtual GONG signals the 9:00PM bewitching hour, those wanting to continue can retire to the Bar and Grill portion of CR's venue.
Here is a picture or two of Calvin Rockett's establishment. It is located on the west side of Center street.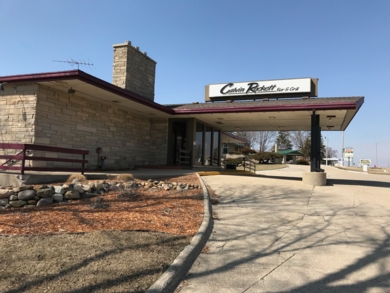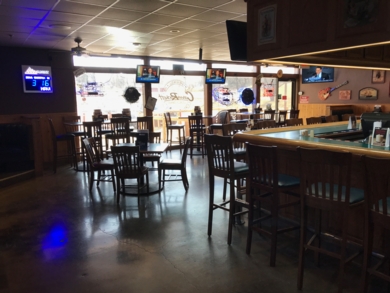 Sorry that I don't have more pictures to share. I arrived in the afternoon unannounced and the regular dining area was being cleaned. So I snapped a photo of the bar and grill area on the lower floor.
REGARDING THE FESTIVITIES DURING THE TWO DAY OKTEMBERFEST, SEPT 28 (FRI) and SEPT 29 (SAT) Stay tuned to this home page where I will begin listing things to do and see during your visit. Some of you are intending to get to Marshalltown on Friday. I hope you have all found your accomodations to this point satisfactory. Please let me know if you have any problems. I suggest confirming your reservations.
Feel free to contact me at (303-797-2475) cell (303-808-8722) or Phil Pattie (480-641-9978) with any questions.
It would be of great help to your administrators if you would occasionally, go to www.marshalltown53.com and login to your profile. Some of you have responded. Thanks. Check the Profile detail and verify the accuracy of your Address, Phone Number, and Email Address. We will get an automatic notice of your "login" and know that your contact information is accurate.
Later, Paul, Phil and Dave
PLEASE LOG IN IMMEDIATELY TO VIEW ALL THE OPTIONS AVAILABLE TO THE SITE USER.
This website is maintained, by your classmate root administrator, Dave Stover. I can't begin to fill the shoes of Jack, who for so many years kept us all informed of changes in the profiles of our classmates, their birthdays and those who have departed. The past reunions have been wonderfully captured in photos. At this point, I would like to request help from anyone with photography experience to volunteer to take photos. It would be great to capture some of the weekend festivities in addition to our gathering at the restaurant Saturday evening.

Utilize the Links on this web site: Classmate Profiles, Message Forum, Contact Us, In Memory, and Home Page.
Enjoy the features like New Slideshow for: Pics–1953–Dave Dickinson, Bobcat-The MHS Mascot - Phil Pattie , New Stuff-Jack Farr, and Iowa Veterans Home-Jack Farr.
Enjoy the features like Class of 1953 Reunion photos 50th 55th 60th, for: 50th (2003)-Jack Farr, 55th Memories-Jack Farr, 55th Tremont-Jack Farr, 55th Tremont-Jerry Miller, 60th Tremont-Jim Maxted and Jack Farr, and 60th Mixer-Jack Farr.
The feature 55th by Jim Maxted contains reunion photos that were submitted by Jim. Transformations is just fun with the passing years. Then and Now-Jack Farr took the photos for this intial feature. Post Script Bits, comes from our Class of 1953 Post Script.
Send in your grade school class pictures or old photos (especially group photos with your Classmates) that you wish to share with your classmates. I will post them in the feature Photo & 30th Reunion. Your Classmates will have fun finding themselves, and their friends, in your old photos. Harold Small, Harold "Bud" Lowry, Jody Maxted, Richard Miller, and Darol Kaufmann (30th Reunion photos), all submitted photos for this feature.
The Missing Classmates feature is generated by a web site program.
Once you create a profile (by creating a password) you will be able to see the profiles of your fellow classmates and interact with them. Each profile has the picture of your classmate from the 1953 Post Script Year Book.
If you change your email address, or your regular mail address, or your phone number, please update this information in your profile. When we download a hard copy of the information we can then be confident that it is correct.
Please let us know if you are aware of a classmate that has died. If you can include an obituary, it will be included in the site. When only the date of death is known please include that information. Losing a Classmate is a sad event, but, we need to share this information with each other.
The home page has a MISSING CLASSMATES option, on the lower right side of the page, to advise a fellow classmate who has not joined our site to join with us. When you are aware of an email address of a missing student please send them an invitation to join the web site.
When you communicate with a classmate who does not have an email address (or computer); do not hesitate to advise them of www.marshalltown53.com. They may wish to contact a friend or visit a local library, to use their computer, to join our web site. You do not need to be a computer junkie to enjoy our web community of friends. Our local library has several such users using their facilities. Please contact us if you are having any difficulty creating your profile, accessing your profile, or adding photos and videos, etc.